Informations:
A Type double-sided extension ladders having the usage possibility without being leaned against any place at "A" position enable users to reach higher places by using double sided extension part.
Two people can work mutually on the ladder at the same time. The hook at the one side can be fixed to step while the other hook is fixed to a different step and this enables these ladders to be used in graded floors.
The expansion is fixed with strong straps, and the slip risk is eliminated with rubber foot caps. The sliding system and step lock system are extremely durable and safe.
These ladders are practical and light because of their aluminum construction and they can be used in various areas.
Features:
The red step is the safety step. "Pointer of maximum working height"
Over patterned non-slip Square Step Profile
Production with the special passing-compression method
Special Shaped Rectangle Carrier Profiles
Special Alloy Non-slip Wedges
Locked Step Hook System
Preventive Pin of Stopping excessive Elevation
Safety Belts Prevents Opening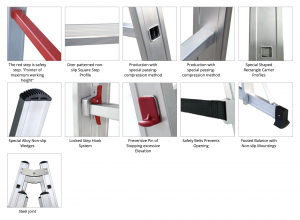 Specifications: