Informations:

ProTUBE F model, which is TÜV-SÜD and TSE EN1004 Certified Professional Scaffolding System, can move on its wheels without being mounted on any surface. Thanks to its easy folding structure and taking up a little space, it provides great convenience during installation and transportation.
It will both simplify your work and save time thanks to its practical setup. You can move it easily by its wheeled structure and fold it in narrow places that you need to pass (like from room to room).
ProTUBE F model, available in 3 different sizes, consists of PRO TUBE Professional Scaffolding System modules. The platform can be adjusted according to the height to be worked on. Since it is made of aluminum material, its installation is simple, light, and useful.
ProTUBE F scaffolding systems offer safe, modular, durable, and economical solutions up to 5,45 m.

Features:
Non-slip Patterned Rungs
Special manufacturing, horizontal and diagonal braces
Braces, diagonal and horizontal
Stabilizers
The stabilizers with practical joints
Wedges of stabilizers
Wheels
Platform with toe board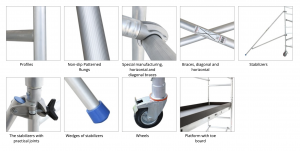 Specifications: