Informations:
Single Part Aluminium Ladder
Single Part Ladders, which are used as leaning on the wall, are preferred by professionals because of their simple design, lightness, practical use, and durable structure.
It is convenient for the use of Painters, Line Installers, Repairers, and Construction sector, and many other work areas.
Red-colored safe step which points to the maximum working height and Durable Feet are designed in order to provide personal security. You can also ask us to add guardrails and hooks to the product.
They are available in sizes from 2 meters up to 6 meters. For products of 3 meters and above, there is a stabilizer.
All of our single-part ladders in all lengths have TÜV-SÜD and TSE EN 131 standard quality certificates.

Features:
Features
The red step is safety step "Pointer of maximum working height"
Over patterned non-slip Square Step Profile
Production with special passing-compression method
Special Shaped Rectangle Carrier Profiles
Special Alloy Non-slip Wedges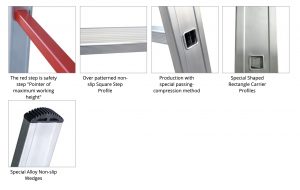 Specifications: