Informations:

TeleSafe XL model, which is TÜV-SÜD and TSE EN1004 Certified Professional Scaffolding System, can move on its wheels without being mounted on any surface. TeleSafe XL Double Part Scaffoldings have a wider structure than standard TeleSafe model. Extra horizontal braces and toeboards are offered as standard.
Its height can be easily adjusted with its special hinge system, and it can be used in many areas with its safe, light, easily removable structure. The system, built on solid aluminum construction, is reinforced with steel stabilizers.
Diagonal and horizontal braces made of iron pipes connect the main ladders of the scaffolding. Thanks to the Q-Lock System, it can be installed very quickly and safely. Platform height and scaffolding height can be adjusted every 28 cm thanks to the rope & pulley system. The trapdoor of the platform enables the user to reach the platform safely. The guardrails with a height of 100 cm. provide a safe area for the user. The platform dimension is 60×155 cm.
TeleSafe XL have been renewed !

Features:
Over patterned non-slip Square Step Profile
Production with special passing-compression method
Special Shaped Rectangle Carrier Profiles
Locking Mechanism
Q-Lock Locking System
Non-slip surface lockable wire mesh plywood platform
Locked platform hook
Pulley System
Lockable wheels and stabilizer feet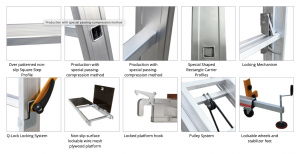 Specifications: